RailsConf 2019 is here! No, really - here in Minneapolis, Minnesota! The local Ruby community is thrilled to welcome you to our hometown.
Visiting the Twin Cities for the first time? Wondering what to wear? Where's the good food and what's a "Jucy Lucy"? Beer lover? I present to you the RailsConf 2019 Visitor's Guide to Minneapolis, created with love by myself, Charles Nutter, and others at RubyMN!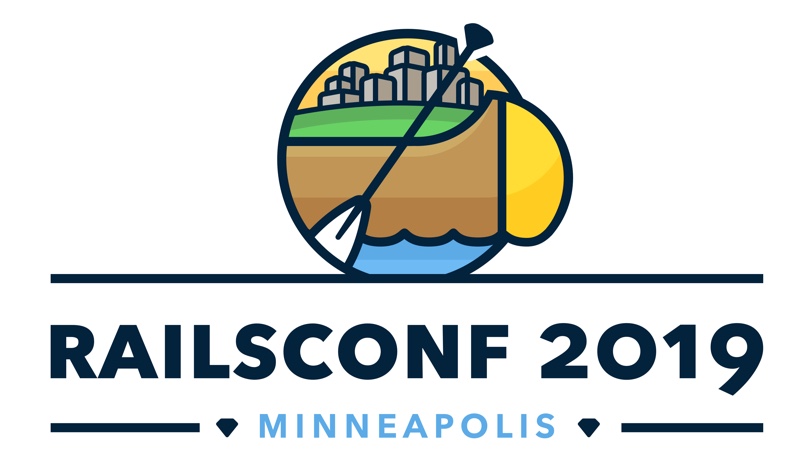 For up-to-date info on logistics concerning the conference itself (schedule, hotel, childcare, policies, etc) the RailsConf website is the definitive resource that you should reference.
This page will likely continue to be updated throughout the conference with additional things as they come to mind or are contributed. Check back!
Quick Reference
The Weather/What to Wear
Skyway Map
Places to Eat
Vegetarian/Vegan places to eat
Craft Beer
Things to Do
Wait, 'Twin Cities'?
RailsConf 2019 is in Minnesota's largest city, Minneapolis (pictured left). Minnesota's capital city, Saint Paul (pictured right), lies a mere 8 miles away (downtown to downtown). Together, the two cities collectively create a single metro area - hence, the Twin Cities.

Both cities have their own flavor and charm, and there's plenty to see and do in both! This post focuses more on Minneapolis, where you'll be staying - but remember that St. Paul is connected via the Green Line or it's a short rideshare trip away.
The Weather
I know, I know - you're worried about the weather. It does get very cold here, but the summers are quite lovely. Before we get to those summers, however, Minnesota goes through what we like to call '2nd Winter' (aka 'spring'). It is currently 'spring'.
Happy 'spring'.
After a week of beautiful sunny skies and ~75º (24ºC), we're regrettably going to experience a temperature drop and rain during the conference. But don't worry! I'm told the weather in the Convention Center is actually quite temperate.
Are you worried about the previous weekend's forecast of…snow? Don't. It'll be gone or plowed (yes, we have plows!) before you get here. Really! It's ok.
"Soooo do I need to bring a jacket?"
Yup. But you don't need the world's heaviest winter jacket. The single easiest way to be comfortably warm in cooler weather than you're used to is by wearing a hat and gloves. So bring a light jacket and, if you think weather in the 40s sounds super cold, a hat and some gloves for when the sun goes down and you happen to be outside longer than just a few minutes.
Skyway Map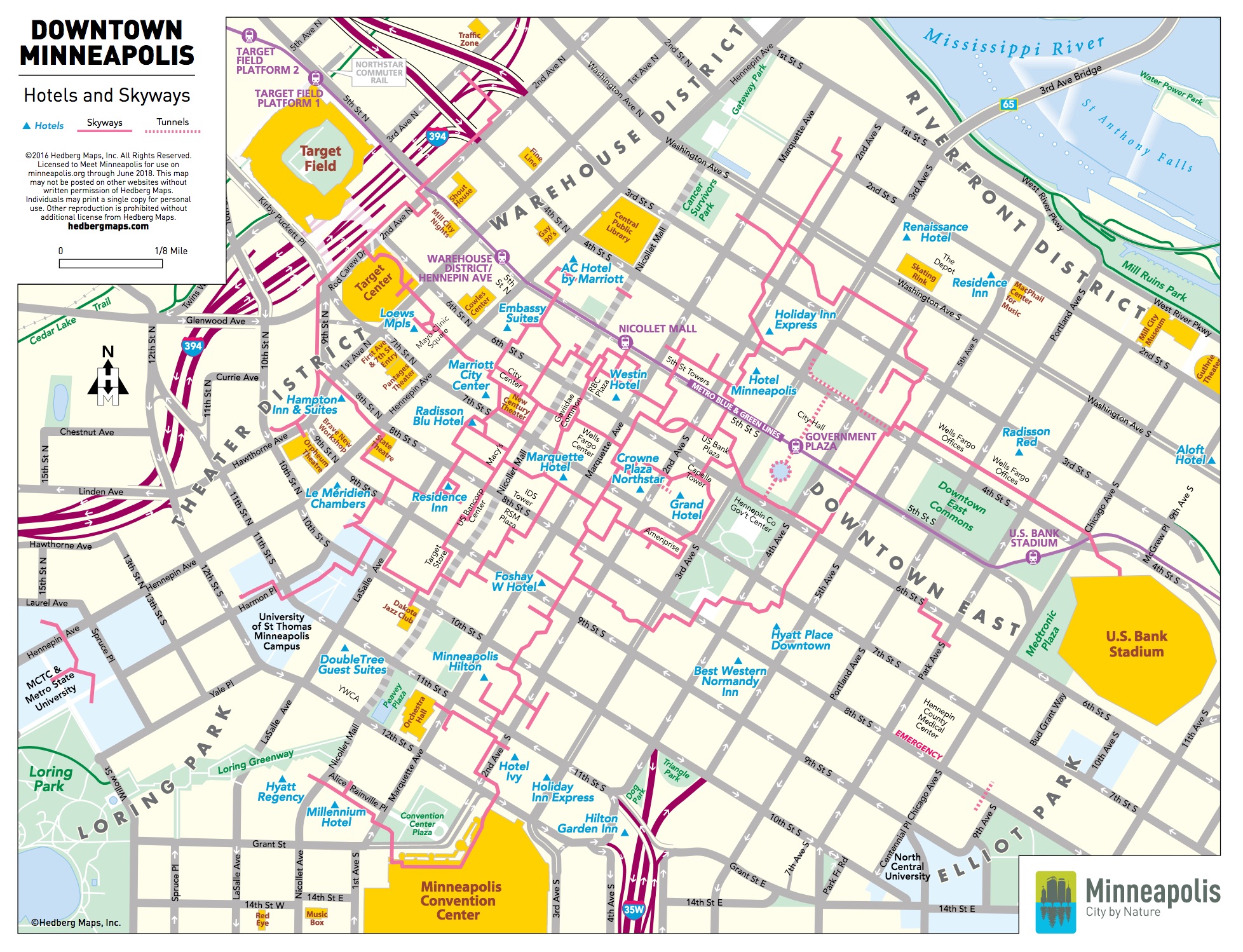 It gets pretty cold here in the winter time. As such, Minnneapolis and St. Paul both have extensive skyway systems: a giant string of enclosed pedestrian foot bridges connecting downtown buildings, above street level. In fact, the Minneapolis skyway system - which cover 80 city blocks spanning 11 miles (18 km) - is the longest contiguous system in the world.
The skyway conveniently connects the conference hotel to the conference venue. However, if you're going for a longer stroll through downtown I recommend to just go outside while you're visiting; it's much more enjoyable and faster in most cases. It's definitely an option if you're feeling extra chilly, though!
Places to eat/drink
You're in the middle of the continent, as Midwest as you can get. The food has to be terrible here, right?
Wrong. The Twin Cities has some really great food. You'll find plenty of local delicacies here in the Land of 10,000 Lakes, whether it's Jucy Lucies (where we unabashedly take credit for Wisconsin's cheese) or some walleye from our 11,842 lakes (see what I did there?). You won't find just Midwestern comfort food here, either: the Twin Cities has a great variety of culture for some amazing spots you'd never think were possible up here in the North.
A true list of all the great places to eat would be impossible to fit on here, but I'll throw in some convenient places by the conference hotel and some favorites all around.
Around the conference hotel (Downtown)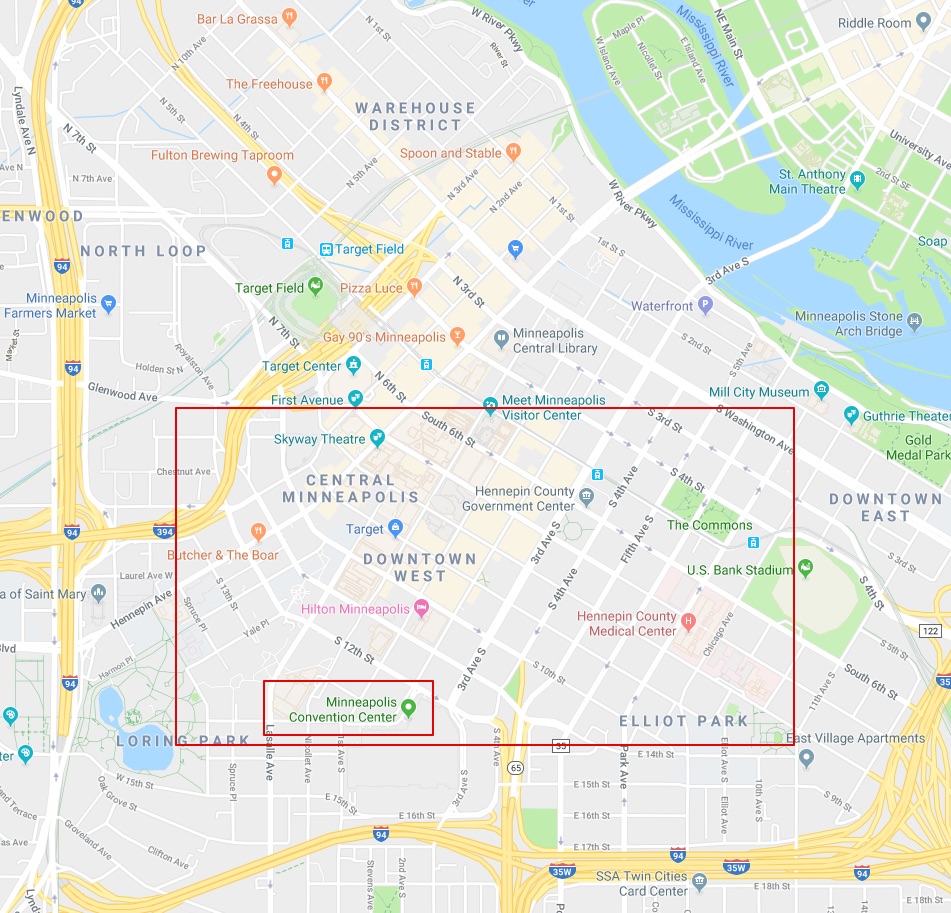 There are tons of places to eat within walking distance of the conference hotel. This list is far from exhaustive.
Uptown/Lyn-Lake
~10 minutes away via rideshare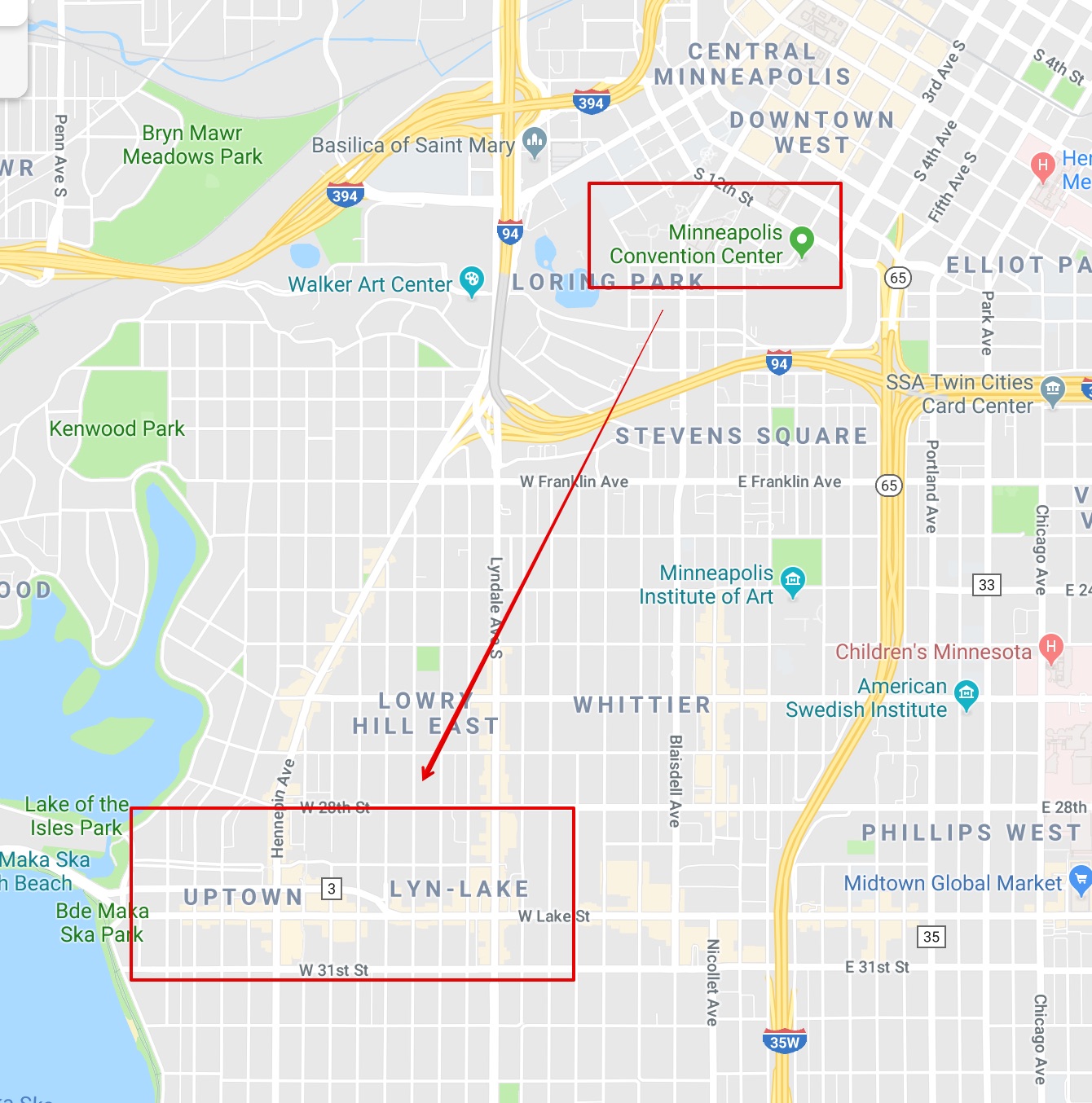 Uptown (at Hennepin and Lake), which is actually south of downtown, is one of the more well-known hang-out spots in the city. I wouldn't call it a tourist trip - it does have some good spots in it - but note that a lot of locals would consider it synonymous with Times Square in New York (many locals scoff and avoid it). It's right next to Lyn-Lake (at - you guessed it, Lyndale and Lake), which is great, and so although the most pedantic locals would argue against it I've just grouped them in to one area here for you.
Here's a great list of good picks for the area.
Some things I'd specifically like to call out:
North Loop (Warehouse District)
< 10 minutes away via rideshare or a long walk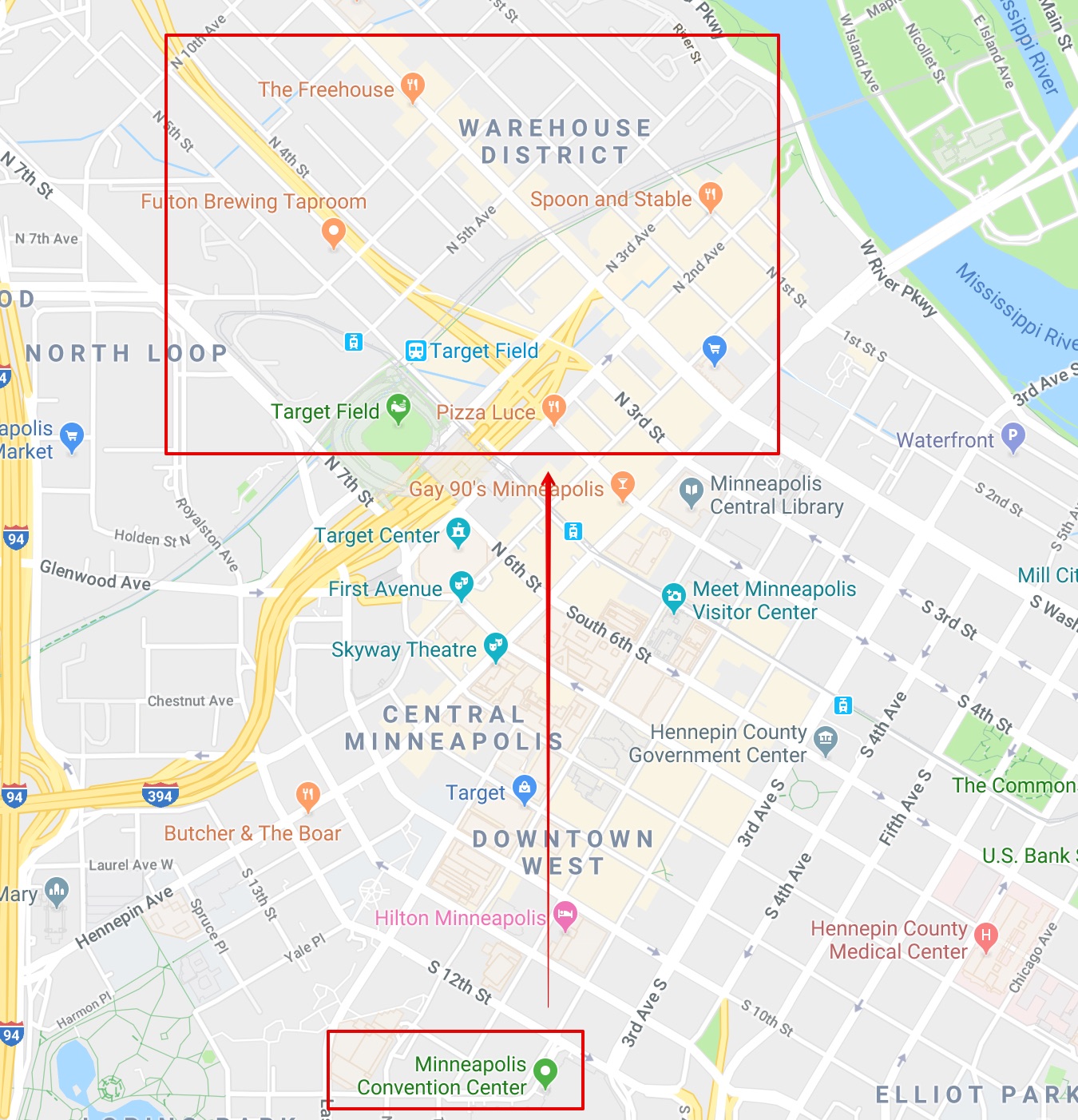 Here's a great list of picks in the North Loop. There's a ton of great picks here, but I'll share a few favorites.
Northeast
~10-15 minutes away via rideshare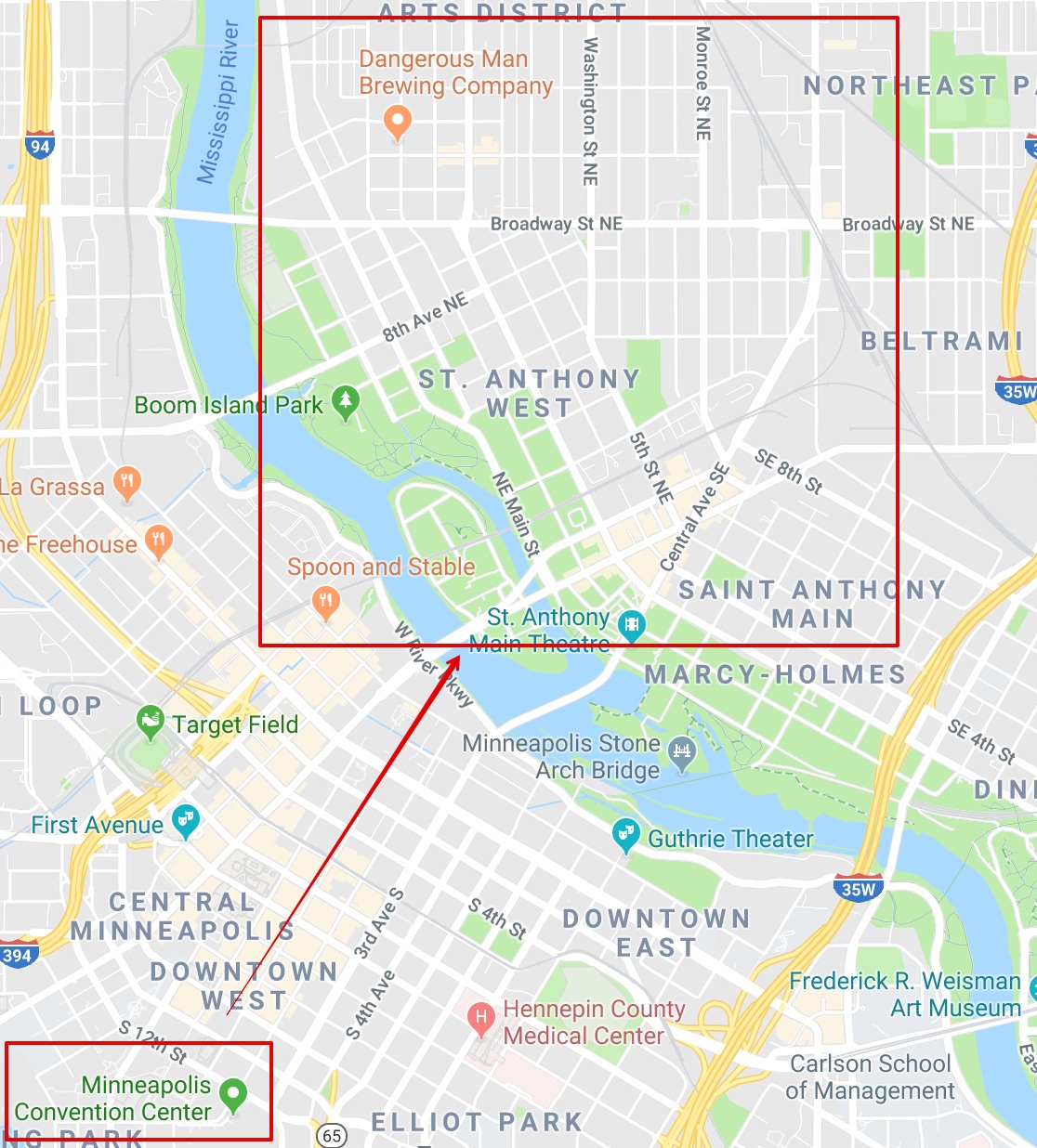 The Northeast neighborhood right across the river has a huge number of taprooms (some mentioned in Craft Beer) and some solid food.
St. Paul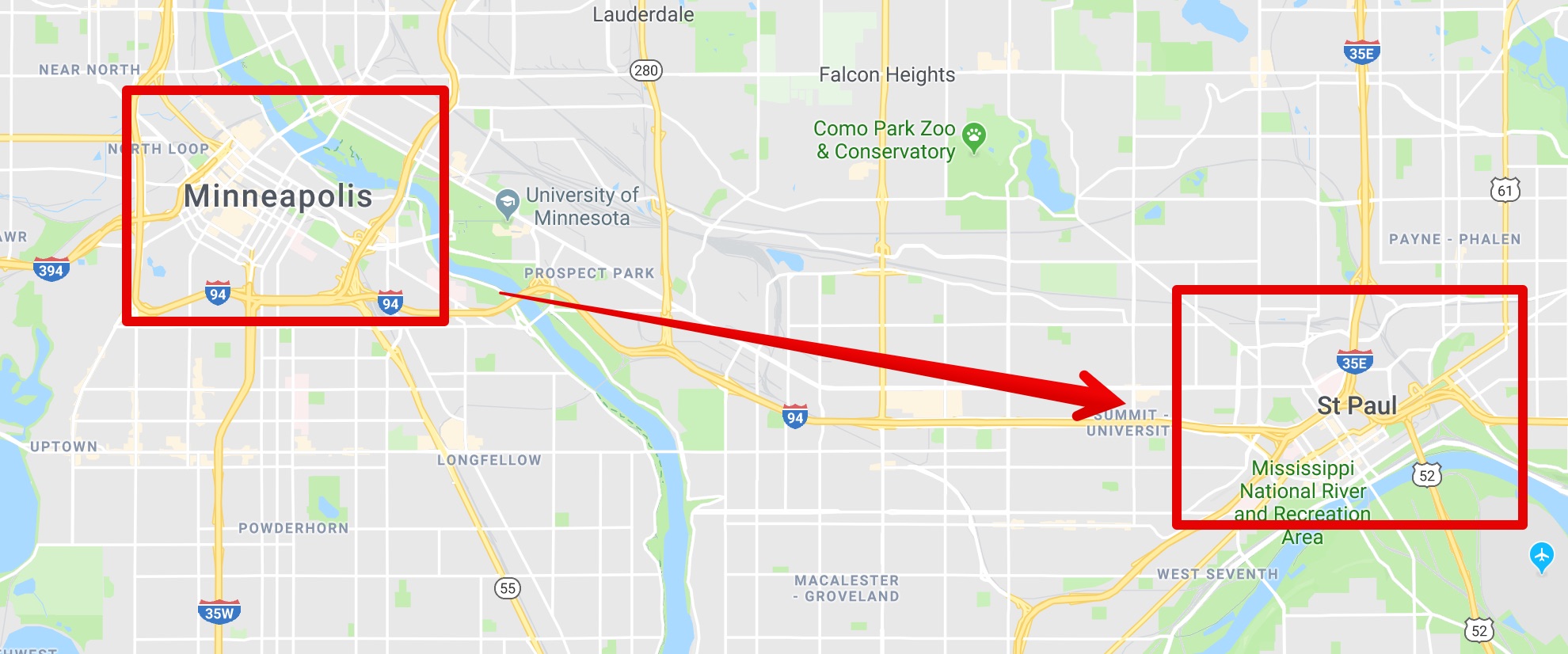 Did I mention there's an entire separate city in the Twin Cities? Down the river from Minneapolis lies St. Paul with all it's own picks. The Mpls/St Paul magazine list here is also pretty good. Some highlights/additions:
Vegetarian/Vegan picks
Some of the closest and best vegetarian options are in Uptown/Lyn-Lake, including:
Galactic Pizza
2917 Lyndale Ave S, Minneapolis, MN 55408
Not strictly vegetarian, but locally sourced pizza with vegetarian and vegan versions of every speciality pizza, and many of the speciality pizzas are already vegetarian. Gluten-free crusts available, too.

Trio Plant-based
610 W Lake St, Minneapolis, MN 55408
Vegan everything!

fig + farro
3001 Hennepin Ave S, Minneapolis, MN 55408
"This vegetarian restaurant serves seasonal small plates and entrees influenced by global cuisines including Mediterranean, Mexican, Italian, and Korean. The brunch menu offers items like biscuits with mushroom-based gravy, breakfast ramen, and a blueberry cinnamon roll sized to share." (Eater Twin Cities)
In St. Paul:
J. Selby's
169 Victoria St, St Paul, MN 55104
Vegan-friendly, plant-based eatery with familiar favorites re-imagined as plant-based fare and new, exciting dishes.
Craft Beer
Beer lover? The Twin Cities' craft beer game is strong. Here's a very small selection of some of our favorites, sorted by distance from the conference hotel/venue:
Close to the conference hotel:
Lakes and Legends Brewing Company
1368 Lasalle Ave, Minneapolis, MN 55403
A single block away from the conference hotel.

Finnegan's Brewery and Taproom
817 S 5th Ave, Minneapolis, MN 55404
Less than a mile from the conference hotel.

Sisyphus Brewing
712 Ontario Ave W #100, Minneapolis, MN 55403
Also less than a mile away, a 17-minute walk through nearby Loring Park and the Minneapolis Sculpture Garden from the conference hotel will get you here.
North Loop (< 10 rideshare or a long walk)
Northeast (10-15 min rideshare)
Midway (~15 min rideshare)
Midway refers to the area between Minneapolis and St. Paul (which is mostly just a part of St. Paul)
Adventure Time (20 minutes or longer via rideshare)
These are well out of your way, but have to be mentioned as they are the certified Favorite Breweries™ of one of our resident JRubyists and founding members of RubyMN.
Wild Mind
6031 Pillsbury Ave S, Minneapolis, MN 55419
In South Minneapolis; about 20 minutes away.

HammerHeart Brewing Co.
7785 Lake Dr, Lino Lakes, MN 55014
Far to the north, right outside the metro area. About 30ish minutes to get there.
Things to do
RailsConf Events
As has become tradition, Mike Perham has once again posted a listing of official and unofficial RailsConf related events and parties on his website, and I'll leave that as a canonical source to reference. Check it out!
I will note here that sadly the RubyMN meetup is already full and we can't really take on any more RSVPs, purely due to the amount of space we have at the venue. As it turns out, a venue that can support 60ish people fills up pretty quickly with 1200+ Rubyists in town!
On your own
There's so much to do and see around the Twin Cities - remember, the conference is in Minneapolis but there's a whole other city just eight miles away (contrary to what some Minneapolitans might purport).
As always, remember that this list is far from exhaustive and undoubtedly will get added to as more things come to mind/are suggested by others.
Further away
These are a trip, but should be mentioned anyway:
Paisley Park was Prince's private estate and recording studio (as well as the name of his record label, as well as a song on his 1985 album). It's in Chanhassen, a distant suburb of Minneapolis, around a 30+ minute drive from the conference hotel.
The Mall of America - near the airport you flew in at - is the largest mall in the United States. It's large enough that there's an entire amusement park (like, with rides) in the middle of it. It's worn a certain marketing for some time, but if you ask a local of a certain age it'll be forever remembered as Camp Snoopy. Really though, it is just a mall - so unless you're really in to shopping, there's a ton of way more interesting things to see and do to experience the Twin Cities. Had to mention it, though!
FIN
I'm so stoked you're here; enjoy your time in the Twin Cities! Do come say hi during the conference! I have a lot of RubyMN stickers to give away.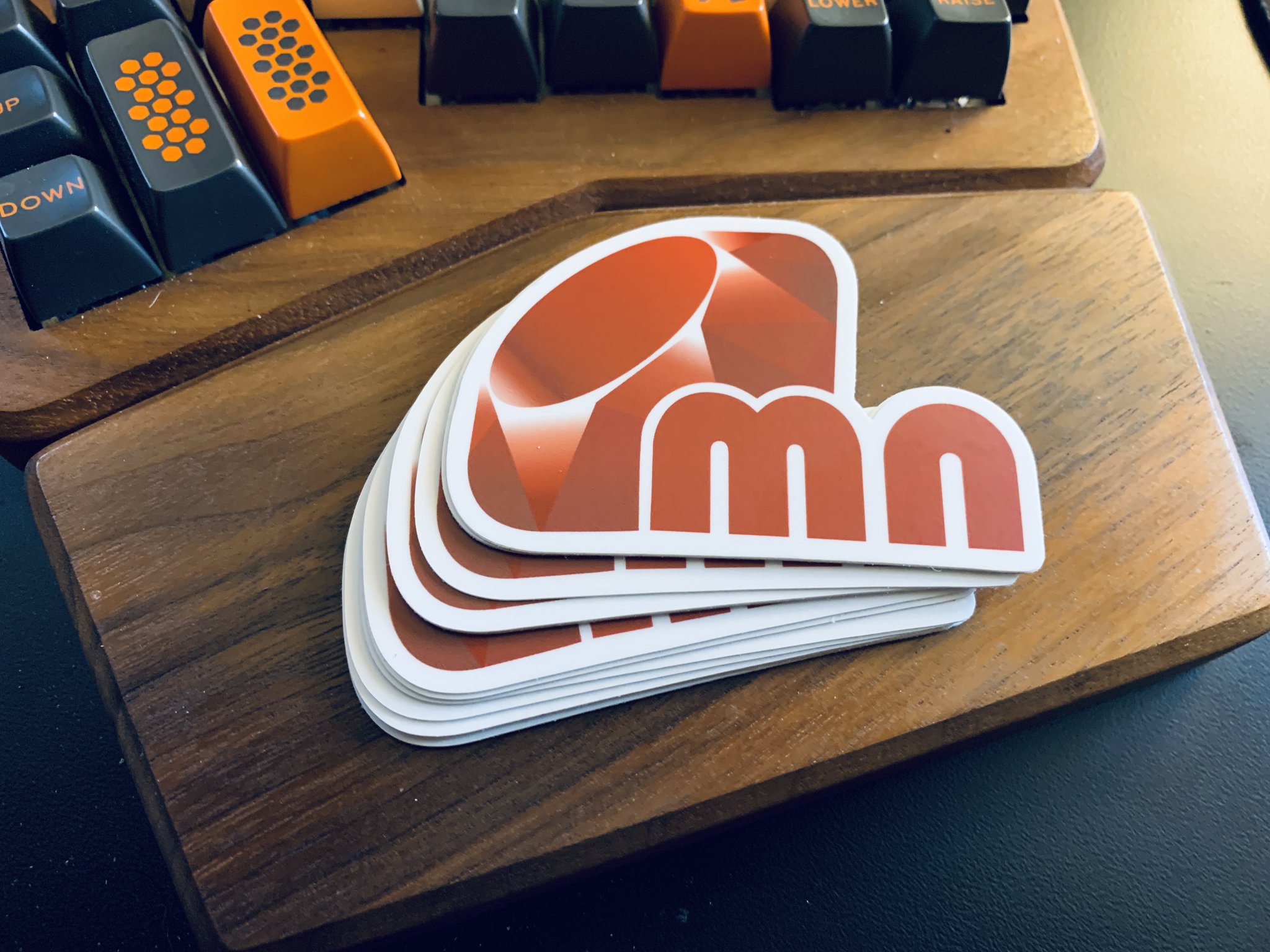 Thank you to the local Rubyists that contributed to all this content!